If your installation of BMC TM ART is secured using a self-signed certificate, perform the following procedure before starting your export. Lets talk about BMC TMART Monitoring Measures Histograms these are heat field graphs that are boundary-values displayed in colors the B1. One of those offerings, BMC's Transaction Management Application Response Time (TMART) software, measures the performance of.
| | |
| --- | --- |
| Author: | Vole Kajiramar |
| Country: | Madagascar |
| Language: | English (Spanish) |
| Genre: | Environment |
| Published (Last): | 27 February 2013 |
| Pages: | 493 |
| PDF File Size: | 1.83 Mb |
| ePub File Size: | 1.95 Mb |
| ISBN: | 231-1-64180-250-8 |
| Downloads: | 84412 |
| Price: | Free* [*Free Regsitration Required] |
| Uploader: | Gardagul |
Cascaded Monitor Execution Project and monitor schedules now offer an additional Cascaded Delay setting. This setting avoids that a monitor is started simultaneously across all locations to avoid workload peaks on the system under test. Change Monitor Schedule on Error A new rule action has been added which enables changing the execution interval of a monitor in case of an incident. The schedule is set back to its original interval as soon as the incident closes.
Raise Incident After Consecutive Failures Rules can now be configured to raise incidents after a certain number of consecutive failures, independent of any timeframe. A monitor based on this Essential only requires the host name of the application server as input.
The data gathered is similar to the values on the current System Health page and can be used like any other monitorfor example to raise an incident if BMC TM ART Central"s performance is getting low.
Blog Wikis Members More Cancel. This group requires membership for participation – click to join. Data truncation" when attempting to create a new database. After changing the default log file location, why does the log file tmarrt in Service Manager point to incorrect location? Do you want to display the non-secure items? How do I stop this message appearing? After tnart a monitor using an uploaded file, can the file then be removed from the TM ART file pool?
After deactivating a location, is there any way to remove to totally remove it from my Client Health report? After reactivating a project, why am I no longer getting any results for that project? After restarting the App Server service, why do my notifications not get sent out until there are two in the queue? After upgrade to 4.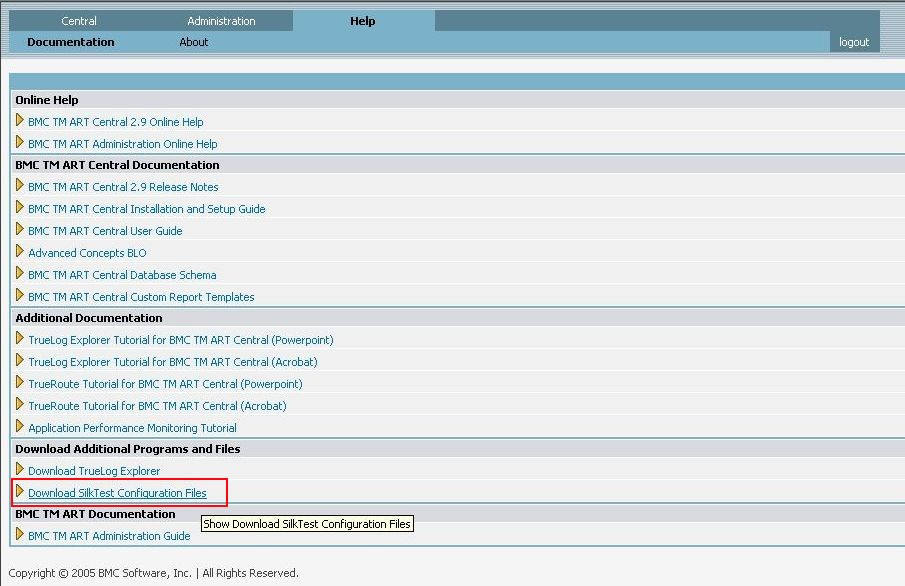 After upgrading to 3. After upgrading to SilkCentral Performance Manager the database has grown significantly, how can I resolve?
TM ART – Transaction Management Application Response Time – BMC Software
After uploading my Report Designer custom report file, and associating it with a project, why is it not listed in the project reports? Application Server service fails to start with the error java. Automatically remove older logs in the RuleLogs. BDL compiler reports tjart script error: Can I change the execution interval of a monitor in case of an incident?
Can I change the location of the charting server and what do I need to change if I do so? Can I change the percentage of time in which an incident will be raised if an expression is true for a Rule?
Can I change the port used by Resin WebServer to port 80? Can I configure a rule to raise incidents after a certain number of consecutive failures, independent of any timeframe? Can I find the browser type and connection speed in the SilkCentral Performance Manager health report?
Can I generate an email notification when a monitor execution times out? Can I use SilkVision 2. Can the "Remember login" option be unchecked by default? Can the size of the result buffer be configured on the Execution Server? Can we be alerted when database disk space becomes an issue? Custom messages specified in SccFrontendEnglishText.
DataDelete process appears to leave behind some old data which should have been removed. Database tables that are targeted during a "data delete" execution. Datadelete is not deleting all the specified data from the database.
Bmx monitor execution does the caching simulation settings behave in the same manner as they do in SilkPerformer? Please check the availability of your database" when no monitors are activated. For which pages does the "page refresh time" operate?
From my Web Server logs how can I identify which traffic is from monitors? How can I adjust the heap size of the Execution Server process? How can I change the application server location without using the Performance Manager web interface? How can I change the default drive location Hmc How can I configure the refresh rate of the reports pages? How can I confirm that the "datadelete" process has ttmart How can I count the number of Incidents within my project?
How can I determine which Execution Server at a Location my monitor is executed on? How can I email regular reports automatically? How can I ensure that an inactive user will be logged out after a specified amount of time?
TM ART – Transaction Management Application Response Time
How can I ensure that uploaded files are sorted by date uploaded in the "Add New Monitor custom monitors" section? How can I halt the execution of a monitoring BDF script if a transaction exceeds a certain time threshold? How can I identify the Execution Server a Monitor is scheduled to run on? How can I identify which monitors have TrueLog generation enabled?
How can I modify the location of where the Launcher. How can I modify the location of where the Tomcat.
How can I resolve Blackout Periods date sort from sorting alphabetically? How can I use the default URL Checker monitor when proxy authentication is required to access a site?
How can I workaround the problem where the "configuration schedule" for my monitor is "greyed out" when logged bmcc as a Project Manager.
How can the monitor execution time exceed the default timeout without raising an error? How do Bmd configure server login credentials when using Infastructure or Custom SilkEssential server monitoring? How do I convert a server certificate from pfx format to the cer format required for importing into SilkCentral Performance Managers Keystore?
How do I define a rule so I can receive an e-mail when a page in my transaction causes an error? How do I enable response time thresholds bounds for custom timers in my SilkTest script? How do I enable response time thresholds bounds for custom timers in the Workbench monitor? How do I ensure that custom counters influence performance, accuracy, or availability of a system in the client health report?
New features in BMC TM ART Central 3.6
How do I manage blackout periods for planned maintenance periods so that no monitors are executed? How do I resolve a java. How do I resolve the error "A floating point exception occurred in the user process. Current transaction is tmarf. How do I resolve the error "ORA How do I resolve the error "Warning: How do the frequency intervals work when configuring rules and raising incidents? How does new data get written to the database when the OldDataDelete process is running?
How does the DataDelete process work for long running instances? How does the licensing of SilkCentral Performance Manager work, and what does each component of the license file do? How far do the measures in the System Health page go back to calculate the average values displayed?
How is the connection established between the Central Server Application server and the Execution server? How many Infastructure tmrt server licenses will I need? How much hard disk space is required for each component of SilkCentral Performance Manager? How to avoid data loss when add a new Execution Server. I have administrative rights – how can I resolve a "Windows cannot access the specified device, path, or file. You may not have the appropriate permissions to access the item" warning on a Windows Server SP1 machine?
If I need to switch off and reboot my servers, for example to back-up my machines, what is the recommended tmrt of reboot? If an incident is not opened or closed as expected, how can I tell if this is due to a delay in results writing?
In BMC Central 3. In the Execution log why do I get the message "Warning Monitor time: Incorrect characters entered into Browser Application with some locales. Increase the retention period for the Audit Log.
New features in BMC TM ART Central – TM ART Knowledge Base – TM ART – Micro Focus Community
Instructions on how to generate a thread dump for an Application or FrontEnd Server. Is it possible for a user to lock a record so that no one can edit while they are making changes? Is it possible to change the formula used to calculate Health values? Is it possible to have all Results better than Bound 1 display a Health value of ? Is it possible to modify incident email alerts to include values from the project attributes of the monitor? Is it possible to restart the AppServer during an upgrade from 3.
Is it possible to use a single. Is it possible to use the upgrade execution servers functionality within TM ART to upgrade to a different drive path or letter?